ASHDOWN WAREHOUSE CONDOMINIUM ROOFTOP DECK PROJECT
Design/Build Project
Scatiff, Miller, Murray Architects, GTShelters.com Designer and Builder and Number 10 Architects.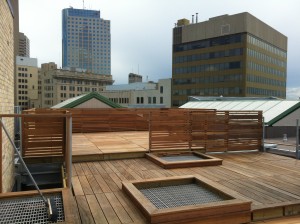 The project took over 2 years to complete the design, development and permit approval. It was completed in the spring of 2013.
All wood and steel materials were craned to the top of this historic 6 storey building and pieced together like a puzzle.
Galvanized I-Beams carry the load of an 800 square foot Brazilian hardwood deck, planter units and trellises. Glass railings capped with oiled Pedra Wood highlight the north parapet edge. Tenants were able to enjoy the 2013 summer season.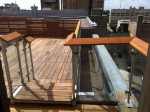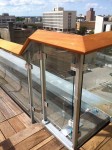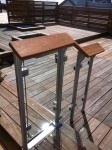 SOUTH POINTE BENCH PROJECT
Design/Build Project
Scatliff, Miller, Murray Architects and GTShelters.com Design Build
During the fall of 2013, GTShelters was asked to build the benches for the South Pointe Subdivision.